Amentium is the latex fashion brand of Helen Teiman from Liverpool. They stand out for the use of laser-cut detailing to create repeating patterns from geometric shapes – designs Helen says were inspired by Renaissance and Classical designs and architecture.
We first became aware of Amentium through the ITV dating show Take Me Out (of all places). Last year, Helen participated in the show for the express purpose of wearing and promoting her latex designs. It seemed to be an effective strategy, as news articles and interviews with Helen appeared in print media following her appearance.
The brand continues to grow in popularity and is a regular participant of the biggest fashion weekends for fetish and alternative fashion across Europe, such as Avantgardista and the German Fetish Ball. Most recently, Amentium launched a new collection: 'Without Warning'.
This is Dark Shiny Fashion Alternatives' fifth Q&A, and we thank them for sharing.
Can you provide a short bio of your background in fashion?
My name is Helen Teiman. I graduated in 2016 from Leicester De Montfort University's Contour Fashion course. When I started my degree course I had neither sewn nor drawn a fashion illustration before. I was going into it completely blind and I always had to work so much harder to catch up to my peers throughout the entire 3 year intensive course. I have done over 10 internships with fashion companies throughout the UK to push my learning in business but also experience the fashion industry in its raw form.
How did you discover latex as a material to use in fashion? Did you have a personal interest in wearing latex or was it just a material that you found interesting?
As mentioned previously, I have done multiple internships. I thought I would give myself a new challenge and try a different material other than lace or Lycra. Having seen many images of celebrities in latex and extravagant costumes online I was curious about latex. I nervously contacted Catriona Stewart on Facebook, a previous graduate of the Contour Fashion course in De Montfort who had set up her own latex company. I asked if she needed an intern for the upcoming Christmas period in 2014, which was perfect timing as she had a large workload to get done for the Christmas season. Catriona accepted me as an intern (her first ever intern!) and later hired me as an assistant, a position I held for over a year before moving back to Liverpool once I had graduated.
Helen's graduate collection 'Hidden Escape'
At what point did you decide to take your personal interest in latex and transition it to a vocation?
After completing my second year at university, I was pleased with how much progress I'd made. So I uploaded images of my best work onto PurplePort, including swimwear and lingerie and the first latex outfit I've ever made — The Launch Bustle Body. The attention my profile got was crazy — I had so many people asking to buy my outfits. I'd uploaded them onto PurplePort just to have an online portfolio for myself, but never expected anyone to actually want to wear them!
Still on the hunt for more fashion internships, in my final year I contacted the organizer of Liverpool Fashion Week to ask if I could help backstage at the 2015 event. Instead of offering me a backstage job, the organizer asked me if I would like my own show as a designer. I thought that, with the interest I had received on social media, this event would be the perfect platform to potentially start my own business and make some money for my final year at university.
A business has a number of things that one must deal with that sometimes dim one's passion. You have rent, insurance, utilities, materials, employee salaries etc. What end of the market absorbs more time – the celebrity couture or the consumer market? How do you balance your passion for creativity with the need to be profitable?
As a one-person business I find it difficult to balance my time across all areas. Some days I want to spend all day designing and making a new collection yet I have to respond to many emails, prepare for upcoming events, sort out events and their fees, outfit costings, suppliers… so a lot of my time is spent organizing everything else over what my passion is: designing.
In the commercial market everything is based on cost, so as a designer you're limited. I don't want my creativity to be limited. I will never compromise on quality, and latex is a niche market where customers are willing to pay for creativity and quality. I feel like latex clothing is more respected as art than just clothing. Yet the rest of the business is definitely very strict on price as Amentium is still such a new brand I have to really think about the cost of everything else so I can spend more money on the outfits.
photo: Busha Bailey; model: Olivia Harriet
Latex can be described as a "Fetish," a "kink", "Alternative fashion" or simply "fashion". Do you prefer one description over another?
I think the lines are starting to blur now more than ever. Initially, I wanted to design statement fashion outfits, something to be seen and flaunted, and latex allows that. As Amentium we try and add our own spin on the fetish and kink scene, introducing newbies with more fashion garments than fetish that they are proud to say they wear latex.
It seems many latex outfits are designed to be body hugging. I've heard latex referred to as a "Second Skin." Do you agree that latex should be used for tight outfits or does it lend itself to "loose" outfits? If it's a "second skin" does it mean it needs to be worn without "undergarments"? Does that intimidate people from wearing it?
Latex can be quite a heavy material and likes to have a mind of its own at times, I've learnt this the hard way, so introducing volume and loose fitted outfits can sometimes be a challenge to fall the way you intend it to and to stay there. It's rare to wear undergarments when wearing latex clothing, as if it is a fitted garment then you can see every lump and bump where the undergarments are. It creates a much smoother finish going commando. Some people wear undergarments just for their own personal comfort.
In your experience, how concerned are people about body image when considering fashion choices? Does latex, as a material, help or hinder these decisions? Do you feel latex tends to express one's body with honesty as if it was no different than a "second skin" or is it more of a fashionable type of shapewear that fixes a person's perceived "flaws"?
People that wear latex exude confidence and there's nothing better than having someone proud to wear your designs. Latex wearers are generally proud of their body and want to parade it in whatever they wish. When customers are trying on my designs I always get questions like "Does this look okay, is it too tight, can you see my rolls etc?" yet their face and the way they hold themselves has completely changed, and I always say to them, "How do you feel?". I always wait for their response, even though it is already written all over their face, they feel amazing! That's what I love about latex, it acts like a second skin in a shapewear fashion, just slipping into a garment can completely change a persons confidence.
Part of the iLLUSION collection, modelled by Katie Miller
How do you find the market for latex wear distributed between men, women, cross-dressers (men or women), and celebrity couture?
Currently, Amentium only offers womenswear. We have many transgender buyers, it's just about finding the right style for their figure. The market is predominantly womenswear but those that do menswear are very good at what they do. Likewise for the celebrity-driven brands.
What is your favorite piece of latex that you've created in your career?
I will always hold a special place in my heart for The Launch Bustle Body as this was the very first latex outfit I had made and ultimately started Amentium as a brand.
People can state that they don't like latex because of the smell, or because the material doesn't breathe and they sweat too much, or because it's too tight or it makes them look like they're selling sex. How do you address those concerns?
Yes, latex has a certain smell, doesn't breathe, can be tight and make you sweat as a result but personally, I do not think it looks like you're selling sex. Amentium wants to break the negativity with latex that it's "for weird people who wear gimp masks and leads". We offer loose fitting outfits like the Back to Basics Pencil Skirt that is more breathable so sweating is minimal. Some customers like to wear a smaller size as they love the constricting feel and how the tightness shapes their body, some customers prefer to wear something bigger; I cater to each individual customer about their needs.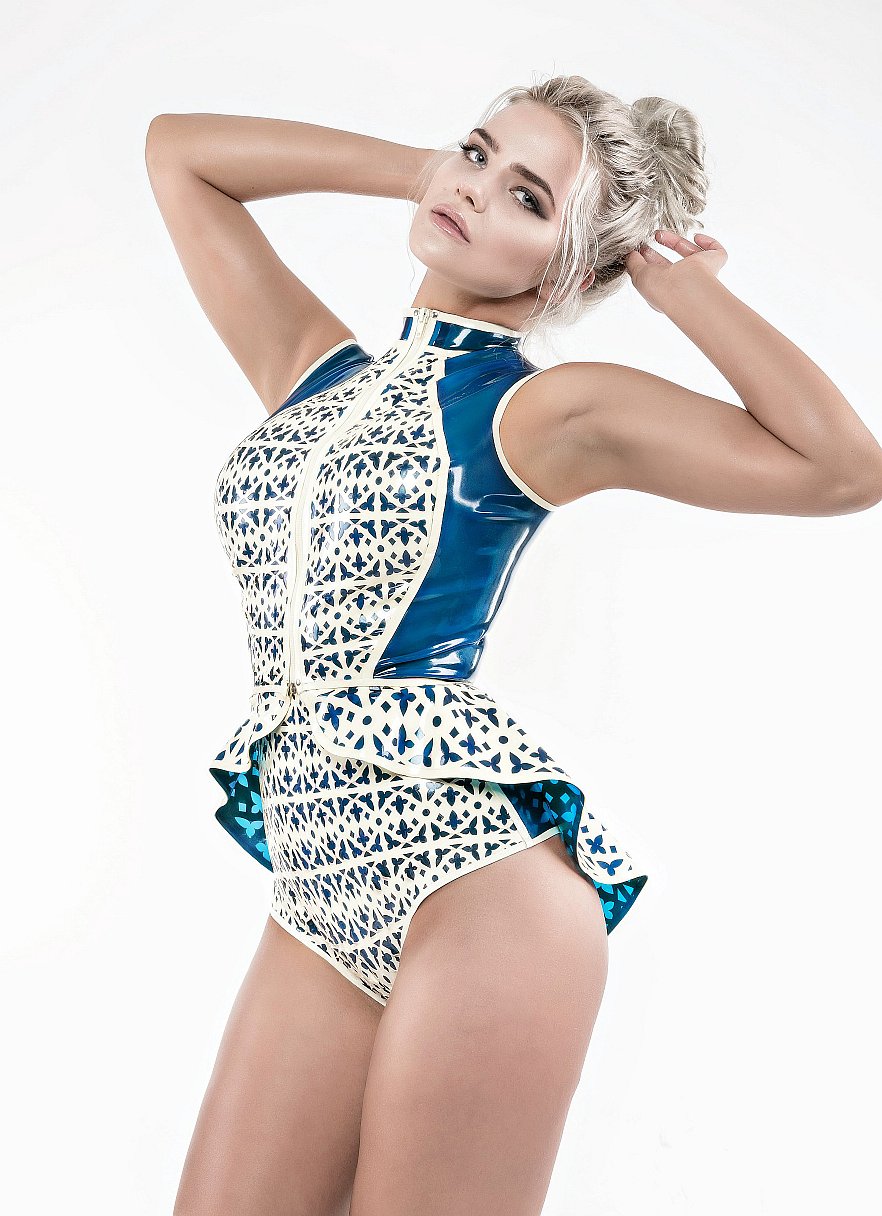 The Launch Bustle Body
Less or More? Do you prefer designing a latex outfit which is more on the revealing side or leaning towards full coverage?
This depends on the collection, who I have in mind and where they will be wearing it. The iLLUSION collection is definitely the most revealing whereas the new collection ['Without Warning'] is more covered and all about volume, a lot of jumpsuits and highlighting elements of the body i.e. legs, waist, rather than revealing them.
How do you feel is the best way to integrate latex into an everyday "public" outfit. How would you mix it with other materials?
I encourage people to invest in basic everyday pieces like a plain skater skirt or pencil skirt to combine with a non-latex top as you can dress it up or down, with another latex garment or another material. What is very popular at the moment is the Back to Basics Strappy Halterneck to be mixed with jeans and a jacket for everyday public wear.
What are your goals for your future in latex design?
We want to continue to grow and push the boundaries for design, try new things and master them. We also intend to start on menswear… we keep saying this but it WILL happen… eventually!
What is your favorite part of being a latex fashion designer?
Definitely the people I get to meet. Everyone is so warm and welcoming, I've been lucky enough to travel the world with the brand and no matter where I go everyone is so supportive and engaging.
Sierra Colleen models new collection 'Without Warning'. Photo: Busha Bailey
What is your blue sky accomplishment to achieve in the world of latex clothing or fashion in general? 
I wouldn't say there is one. I am grateful for all my accomplishments to date no matter how small and I think if I continue to think this way then bigger things will follow. If you have tunnel vision on one goal you will miss out on other opportunities that could lead to greater things.
President Franklin D. Roosevelt stated that "We have nothing to fear but fear itself." People tend to be fearful of things that are different. They express that fear through aggressive or demeaning behavior towards others to express that their position is superior. Even without external pressure, a person can be fearful due to internal thoughts over how people will react.
This brings us to fashion. You can say the more different something is from the norm, the more people will react negatively.
Do you agree with this? Is latex "too different" from what is accepted fashion to be commonplace? How much more extreme is it than wearing leather? Women often wear leather to corporate jobs. Is latex that much more extreme? Is men's latex wear more "extreme" than women's wear?
What do you say to someone who deep down would want to wear latex in public settings?
I despise hierarchy and those who believe their views are superior to others. I think the society that we live in today has evolved from even 5 years ago when I first started my fashion career. I launched Amentium at Liverpool Fashion Week closing the show with a latex collection. The journalists' headlines were all about how racy it was yet my models were more covered than if you walked down the high street display windows and billboards. Purely because it was latex.
So I said to myself, okay, the world isn't ready just yet. I was involved in a prime time television programme showcasing my designs on ITV last year and still received rude feedback but what both experiences taught me is to have confidence and believe in what you do. The world doesn't have to agree with you, only a selection of people. When I were 14 I bought a crushed penny that I carry around with me in my purse still; although I was never much of a fan of Shakespeare the quote is from Hamlet: "This above all: to thine own self be true" and that is what you have to do as a designer.
An indication of the work that goes into creating these garments: watch Helen drafting and cutting the patterns for one of her designs.
Women's clothing seems to have such variety. Can men's latex be as interesting? What are your thoughts on men's latex fashion?
Absolutely! Those that do men's latex do it incredibly well. Hopefully in the near future we'll be able to add to that list.
What would you do to it to make it special to your line?
So this is easy: I really want to do a 'his and hers' matching collection. I have so many customers with jealous husbands as they want to wear something by us with their partner.
Do you have any final thoughts to add?
We're going to be at Avantgardista, Munich in October if any of the community want to know where we'll be to purchase or see any of our garments in person, as well as Le Boutique Bizarre in the Ministry of Sound, London during London Fetish Weekend.
Helen Teiman wearing her 'Pretty in Pink' designs. Photo: Busha Bailey
Thank you to Helen for her participation, and to Kyle&Selina of the Dark Shiny Fashion Alternatives blog for holding the Q&A.
Links:
Previous Q&As: